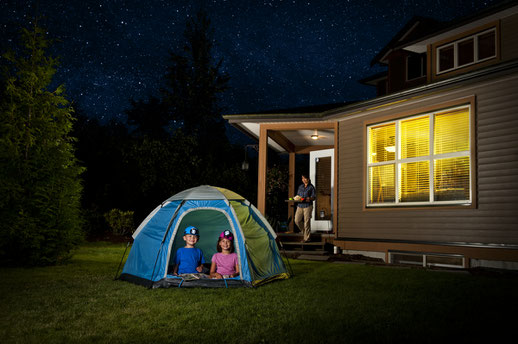 I have one of those testimonies that no one really gets excited about. No jail time, no near-death experience, no fireworks. 
I was six. That didn't give me much time for a rebellious lifestyle (thankfully). But when I think about that six-year old girl, camping out with her little brother under a tent made of bedsheets and dining room chairs, I have to wonder how important I was in the grand scheme of things. 
 No one but my brother knew I was reading that booklet that explained the gospel. Only a few would have cared. I bet most of you were going about your normal lives that night, with no idea of the life-changing decision I was making to trust in Christ.
A six-year old girl in a rural town just isn't that interesting. She doesn't contribute anything of value to society.
I'm not saying no one loved me. That's far from the truth. I'm just saying I wasn't exactly on the A-list. No professional team was thinking of drafting me; no colleges had asked for my application; TIME magazine wasn't considering me for their list of 100 most influential people.
And that doesn't surprise any of you. Because I was a six-year old girl.
What kind of God cares about a six-year old girl?  What kind of God bothers to orchestrate one seemingly insignificant life in such a way that she will become his child and friend?
I was a nobody. We were all nobodies. But the Great Somebody sought us out. The Great Somebody loved us.
"Blessed be the God and Father of our Lord Jesus Christ, who has blessed us in Christ with every spiritual blessing in the heavenly places, even as he chose us in him before the foundation of the world, that we should be holy and blameless before him. In love he predestined us for adoption to himself [...]. In him we have redemption [...], forgiveness, [...] an inheritance, [...] the promised Holy Spirit [...]." (Ephesians 1:3-13, ESV)
He blessed us. He chose us. He made us blameless before Him. He adopted us. He redeemed us. He forgave us. He made us heirs. He sealed us with His Spirit.
And He didn't do it because of anything great in us.
"For by grace you have been saved through faith. And this is not your own doing; it is the gift of God, not a result of works, so that no one may boast." (Ephesians 2:8-9, ESV)
Our lives matter to God. Every. Single. Detail. Even the ones that aren't great or that lack excitement.
You aren't a nobody anymore. He made you somebody. He made you His somebody.
---
Know someone who would be encouraged by this? Please share!
---
---
Sign up to have my free weekly devotions
delivered to your inbox.
---