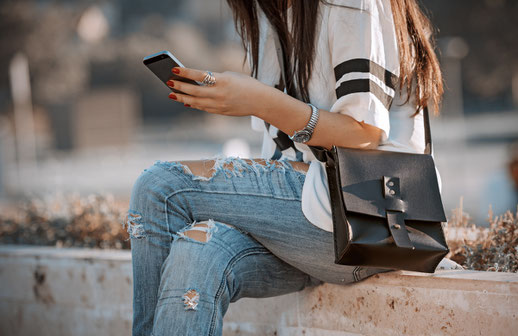 (or, How to Avoid Getting Sucker Punched by Satan)
A few days ago, I was cleaning my room when I got distracted by a magazine article about…wait for it…distraction.
This particular article had nothing to do with housework but discussed how criminals use distraction to make their victims more vulnerable. For example, some might use the technique of asking, "Can you spare some change?" or "Do you have the time?" When you look down and put your hand in your purse or pocket, you're distracted and vulnerable, making it easy for the criminal to strike you and grab your valuables.
You're welcome for the safety tip, but – if you can spare the time – I'd like to take it a step further.
One of Satan's favorite techniques in his plans to destroy us is…wait for it…distraction.
Remember Mary and Martha? "Jesus entered a village, and a woman named Martha welcomed him into her house. And she had a sister called Mary who sat at the Lord's feet and listened to his teaching. But Martha was distracted with much serving." (Luke 10:38-40, ESV, emphasis added)
First of all, let's not be too hard on Martha. She's the one who welcomed Jesus into her home. She was a friend of Jesus. In John 11, we're told Jesus loved "Martha and her sister." Notice that Martha is the one who gets named. She's the one who runs out to meet Jesus when He comes to raise her brother from the dead. She's the one who confesses her belief that Jesus is the Christ. She's not a side character who serves to give us a quick lesson on what not to do. She's a role model, and she knew Jesus better than most of us do.
In other words, she's exactly the kind of person Satan wants to distract.
Her distraction isn't Facebook or reality TV or the latest presidential election. It's much serving. Not just serving. Much serving. She was doing too much of a good thing, and she forgot the best thing. That's why Jesus rebukes her with a "Martha, Martha, you are anxious and troubled about many things, but one thing is necessary. Mary has chosen the good portion which will not be taken away from her." (Luke 10:41-42, ESV).
Jesus says Martha is anxious and troubled. Don't miss his point that anxiety and trouble may be symptoms of distraction. The things we worry about are the very things that are keeping us from focusing on Jesus.
David experiences this same connection between anxiety and distraction in Psalm 55:2-3, where he prays, "Give heed to me and answer me; I am restless in my complaint and am surely distracted, because of the voice of the enemy, because of the pressure of the wicked, for they bring down trouble upon me" (NASB, emphasis added).
Satan puts pressures in our life – good and bad – for the purpose of distracting us. But "only one thing is necessary": sitting at the feet of Jesus.
If you move away from Jesus, worrying about all kinds of lesser things, you are distracted and vulnerable. And that puts you in the perfect position for Satan to sucker punch you and steal all your valuables. He'll probably start with your love, your joy, your peace, your patience, your kindness, your goodness, your faithfulness, your gentleness, and your self-control.
Don't let that happen. Keep your eyes up – and focus them on Jesus.
---
What are some ways you fight off distraction? Leave a comment below!
Know someone who would be encouraged by this? Please share!
---
---
Sign up to have my free weekly devotions
delivered to your inbox.
---