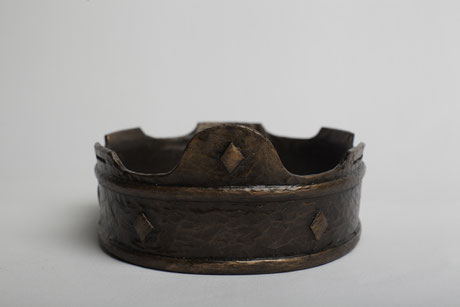 King Bhumibol Adulyadej died five months ago, after a seventy-year reign over Thailand. He was the only king most Thais had ever known, and he was loved by his people. Many thought of the king as the father of their people. His death has thrust the entire country into a year-long period of great mourning.
Several thousand years ago, another king died. King Uzziah (or Azariah) had reigned over the people of Judah for fifty-two years. Until his display of arrogance toward the end of his life, King Uzziah had been a famous king, well-loved by his people. He subdued the Philistines and Ammonites, and he made great advances in agriculture and military defense. His death also must have thrust his people into a period of mourning and emotional turmoil.
It is in this context that God calls Isaiah to be his prophet to the people of Judah. The first thing Isaiah says about his calling is this: "In the year that King Uzziah died, I saw the Lord" (Isaiah 6:1, ESV).
The long-reigning king is dead. Hope is lost. The future is uncertain. The people are vulnerable. The country is unstable. And God shows up.
But He doesn't just show up:
"In the year that King Uzziah died, I saw the Lord, sitting upon a throne, high and lifted up, and the train of his robe filled the temple. Above him stood the seraphim. […] And one called to another and said: 'Holy, holy, holy is the LORD of hosts; the whole earth is full of his glory!' […] And I said: '[…] my eyes have seen the King.'" (Isaiah 6:1-5, ESV, emphasis added).
The King is not dead after all. He's still on the throne, where He's been the entire time.
Whether it's the death of a king or the death of a dream, no amount of turmoil and mourning will ever change God's sovereignty. He's alive, He's well, and He's on the throne. "The LORD is exalted, for he dwells on high; […] and he will be the stability of your times, abundance of salvation, wisdom and knowledge." (Isaiah 33:5-6)
May this encourage you in two ways:
First, hold on to God as your King when times seem unstable.
Second, seek stability in your walk with God. If He is always the King, and He is always offering "abundance of salvation, wisdom, and knowledge," shouldn't we always worship Him and seek His presence? Don't stop praying when life is good. Don't stop reading your Bible when life is busy. Don't stop singing when life is hard. Don't stop getting together with the church, or serving, or giving, or sharing the gospel because of your current season of life. These are called spiritual disciplines because we do them consistently. And we do them consistently because God is a consistent King.
Every earthly king, every earthly dream, and every earthly hope will one day come to an end.
But "The LORD is the true God; he is the living God and the everlasting King" (Jeremiah 10:10a, ESV).
---
Leave a comment below! 
Know someone who would be encouraged by this? Please share!
---
---
Sign up to have my free weekly devotions
delivered to your inbox.
---