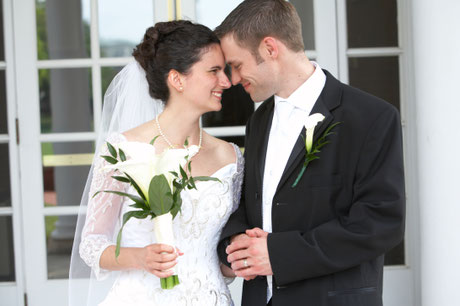 My husband and I celebrate our 10th wedding anniversary this week. That means in another ten years, I might be qualified to write about all the wonderful life lessons I've learned from marriage. In the meantime, I'm still learning.
One of the things I'm learning is that…I'm still learning. About everything. The longer we live as Christians, if we continue growing closer to Christ, the more we realize how deeply flawed and sinful we are. As we grow in our understanding of God's holiness, we also grow in our understanding of our own unholiness.
God uses marriage, among other things, to show me my unholiness. I've been blessed with a great marriage and a husband who loves me well. God uses my husband's love to show me my selfishness. He uses conflict to show me my pride. He uses my husband's strengths to show me my weaknesses and my husband's weaknesses to show me my impatience!
The beautiful truth of seeing our sin is that it puts us in position to receive God's grace.
If we have even a slight suspicion that we can earn God's favor, if we have even a glimmer of hope that we can be counted worthy based on our deeds, we will wear ourselves out trying to be perfect, only to find in the end that we have failed.
"For while we were still weak, at the right time Christ died for the ungodly. For one will scarcely die for a righteous person – though perhaps for a good person one would dare even to die – but God shows his love for us in that while we were still sinners, Christ died for us." Romans 5:6-8, ESV, emphasis added
The moment we lose sight of our sin is the moment we lose sight of His sacrifice.
Don't be discouraged when God gives you a glimpse of how much you still have to learn. It is His gracious gift to you. It's a reminder that your righteousness is a free gift, not something to be earned, and therefore not something you can lose (Romans 5:17).
After all, "Where sin increased, grace abounded all the more." Romans 5:20, ESV.
My ten years of marriage have included many, many reminders of God's grace. And I know He will continue to lavish grace, in sickness and in health, for richer or for poorer, until my old nature passes away and I live in His presence forevermore.
---
Have some (positive) advice for my next ten years of marriage? Leave a comment below! 
Know someone who would be encouraged by this? Please share!
---
---
Sign up to have my free weekly devotions
delivered to your inbox.
---