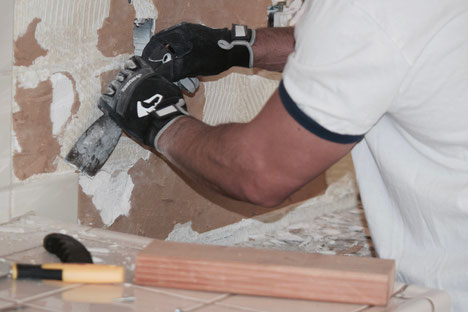 I'm sorry I haven't posted in a while! I've had a hard time accessing my computer and finding time to write because of a dishwasher leak that ruined the floorboards in my kitchen. What was probably only a gallon of water led to the whole kitchen floor being torn up…
…which led to cabinets and baseboards being pulled out in order to put in a new floor…
…which led to repainting two walls…
…which led to spackling holes and scratches in all the walls…
…which led to the decision to fix other projects we had been putting off…  
…which required moving furniture in and out of various rooms of our house for two months.
You get the picture. The leak was exactly two months ago, and right now I'm waiting for the contractor who is supposed to be putting the finishing touches on the kitchen floor today.
…and then I have to repaint the ceilings and baseboards.
It's crazy how something so small can have such devastating consequences. I'm sure I could get at least two months' worth of devotions out of that thought, but I'll stick to just one. It won't be the one about the consequences of sin in our lives. Or the one about how long it can take to repair the damage done by our words.
It will be the one about God using small things to get big results.
Things as small as one basket in the bulrushes or one stone in a sling. As small as the jawbone of a donkey or a servant girl of Naaman or one last jar of oil.
As small as a baby lying away in a manger on a silent night in the little town of Bethlehem. Just one small baby…who made angels sing and stars shine and kings tremble. A baby who would heal the blind and raise the dead and confound the sages.
They say the best gifts come in small packages. And Jesus was a swaddled, seven-pound bundle of God.
In that manger were seven pounds of infinite power. Seven pounds of endless love. Seven pounds of limitless wisdom.
Yes, God uses small things to get big results. For it was through this baby that God would do the impossible:
"Once you were alienated from God and were enemies in your minds because of your evil behavior. But now he has reconciled you by Christ's physical body through death to present you holy in his sight, without blemish and free from accusation." (Colossians 1:21-22, NIV)
It was through something as small as a baby that God brought devastation to sin and death…and we're still benefiting from the repercussions of our reconciliation with Him.
---
What are you thankful for this year? Leave a comment below! 
Know someone who would be encouraged by this? Please share!
---
---
Sign up to have my free weekly devotions
delivered to your inbox.
---