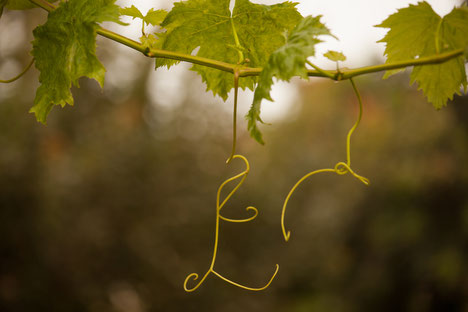 Dear Jesus,
I love that You are the vine and we are the branches. Because that means You're the source of everything I'm supposed to be.
It's nice to be a branch.
I bear the fruit, because You supply the nutrients. I wave green leaves, because You provide the water.  I stay put in a storm, because You hold me fast. I am, because You are.
Sometimes I forget I'm a branch, and I jump down and prop myself up in the soil. That's when I wither up and stop producing anything. I can't even stand on my own. A dog barks, and I fall over. No roots. I have no substance when I'm not connected to You. And I can do nothing.
I can't parent. I can't friend. I can't wife. I can't church.
I can pity party. I can anger. I can worry. I can pride. (Yeah, I see the irony of a shriveled up stick lying in the dirt thinking I deserve applause.)
It's pretty clear I need You. And that's why I love that You give You.
That You reach down and grab me and graft me back into You. That You make me drink deeply of Your love and Your power and Your wisdom.  That You hold me close when I want to run. That You fill me, not when I'm empty, but because I'm empty.
I love being connected to You. I need You in every second of every day. When I remember that, it's not really about the fruit I bear. Or the leaves I wave. Or the strength I portray. I know You'll take care of all that. And You'll be pleased with whatever's there, because You'll be the One producing it.
So I'll keep my focus on abiding. I'll talk to You, listen to You, think about You, sing to You, and live for You.
Because it's nice to be a branch, when the vine is You.
Your Branch,
Melissa
"Abide in me, and I in you. As the branch cannot bear fruit by itself, unless it abides in the vine, neither can you, unless you abide in me. I am the vine; you are the branches. Whoever abides in me, and I in him, he it is that bears much fruit, for apart from me you can do nothing." John 15:4-5, ESV
---
How has Jesus used time that seemed wasted in your life? Leave a comment below! 
Know someone who would be encouraged by this? Please share!
---
---
Sign up to have my free weekly devotions
delivered to your inbox.
---