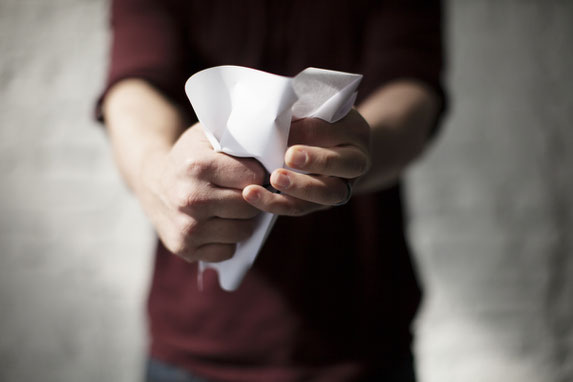 I was quietly procrastinating yesterday when shouting from the kids' bedroom interrupted me.
I tried to ignore it.
It escalated.
There was screaming about who was the meanest person in the world, and shrieking about who was in charge of whom. There was a declaration of not liking each other, and physical blows may have been exchanged.  Another day in the life of siblings.
Except in this case, one sibling was so angry that self-control seemed unattainable. This child just couldn't seem to calm down and speak rationally.
So I sent my little angry one to the dining room table with instructions to make an "angry picture." From the noises I was hearing, I was afraid of what might be happening to my dining room. I followed up with frequent reminders that this was only an angry paper.
We ended up with a smiling child and a torn, crumpled sheet of paper streaked with furious lines of orange crayon.
My goal was to get to a place where I could hear both sides of the story and administer appropriate discipline. But when I looked at that paper, tears threatened to spill.
"Hey, kiddos," I said. "Take a look at this paper. What if you had done this to something very special to you? Like your favorite book or a stuffed animal?"
Now their eyes looked suspiciously wet.
"When we shout at each other and say unkind things, this is what we do to each other's souls. Our souls are very special to God. Do we really want to do this? And how does God feel when we rip each other apart?"
My point was made, but I pressed it a bit farther. Smoothing the paper over my knee, I asked, "Can this paper ever go back to what it looked like before?
"People's souls are like that, too. When we say mean things, we leave a mark that might hurt for the rest of someone's life."
I have to confess, my tears weren't really about my kids' words. They were about my words. The ones I've spoken in a moment of impatience and left a hole in my kids' souls. An angry orange streak on my husband's soul. A fistful of wrinkles on the soul of a friend – or even a stranger.
"You shall love your neighbor as yourself." But if you bite and devour one another, watch out that you are not consumed by one another. (Galatians 5:14-15, ESV)
Can you identify? Ever hurt somebody with your words?
We all stumble in many ways. And if anyone does not stumble in what he says, he is a perfect man. (James 3:2, ESV)
I have the desire to do what is right, but not the ability to carry it out. …Wretched man that I am! Who will deliver me from this body of death? Thanks be to God through Jesus Christ our Lord! (Romans 7:18-19, 24-25, ESV)
There is good news for our hurtful words. THE good news is for our hurtful words.
 If we confess our sins, he is faithful and just to forgive us our sins and to cleanse us from all unrighteousness. (1 John 1:9, ESV)
And I am sure of this, that he who began a good work in you will bring it to completion at the day of Jesus Christ. (Philippians 1:6, ESV)
You can be forgiven. And you can try again. Thanks to Jesus.
---
Have some advice on curbing angry words? Leave a comment below.
Please share this with your friends!
---
---
Sign up to have my free weekly devotions
delivered to your inbox.
---