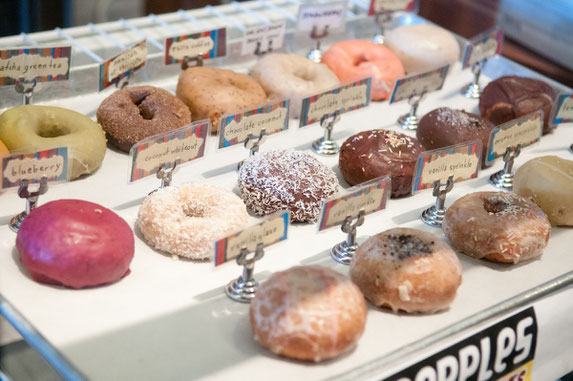 A couple of days ago, it was my son who had a bad attitude (if you read last week's devotion, you know he comes by it honestly). After praying for him, I asked, "So what can we do to make this better?"
His answer:
"How about buying me some donuts and new Legos?"
Well played, Son. Well played.
He didn't get his requests, but we did have a discussion about how even grown-ups sometimes use food and shopping to make themselves feel better when they're having a hard time. Somehow, this conversation served to improve his mood. I think it was the part about Jesus.
Do you ever run to something other than Jesus to help you in your time of need? Maybe it's food or shopping. Or maybe it's coffee. Facebook. Binge-watching Netflix. Venting to friends. Exercising. Even cleaning (I hear this happens to some people. I don't know any of them or my house would be a lot cleaner). Personally, I'm a sucker for chocolate.
I'm not knocking any of those activities in and of themselves. I'm not even discounting their value in helping us deal with difficulty. But I fear we sometimes look to them as an alternate savior. Not that we would ever say it that way. Of course not.
Hypothetically speaking, I might say something like, "It's been a rough day. I need some chocolate." I realize that sounds a lot like, "Chocolate can save me from my rough day" or "I cannot survive without chocolate," but I don't actually mean it that way. I just mean after a rough day, what I most want is chocolate. Wait, what? Not Jesus…chocolate.
Psalm 46:1-3 says:
 God is our refuge and strength,
    a very present help in trouble.
Therefore we will not fear though the earth gives way,
    though the mountains be moved into the heart of the sea,
though its waters roar and foam,
    though the mountains tremble at its swelling. (ESV) 
How often do you say, "It's been a rough day. I need to go pray for half an hour"? Or "I just can't take it anymore. I've got to turn on the worship music and sing my heart out"? Or "This is the kind of day that calls for memorizing two Bible verses"?
Again, I'm not saying you have to give up exercising or cleaning (I wish I could give up that last one). But I am calling for a shift in priorities.
The same Psalm I quoted above, in verse 10, is the one that says:
"Be still, and know that I am God.
    I will be exalted among the nations,
    I will be exalted in the earth!" (ESV)
God is exalted when we let Him save us. Not donuts. Not Legos. Not even chocolate.
---
What are some ways you turn to Jesus in times of trouble? Leave a comment below.
Know someone who would be encouraged by this today? Please share!
---
---
Sign up to have my free weekly devotions
delivered to your inbox.
---