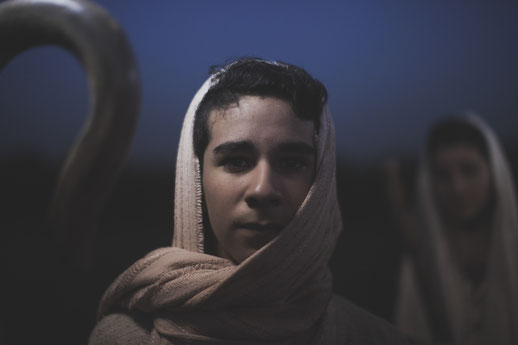 We're a superhero generation. Our movies attest to it, our Halloween costumes, the time and money we spend on sports and entertainment, maybe even our politics. We like celebrities, people with big names and big talent. People who can accomplish great feats.
And we want to be superheroes. Keep perfect houses, raise perfect children, put on perfect productions, perform our jobs with perfection. Or maybe we just try to save face and look like we can handle anything, when inside we're falling apart. The pressure we put on ourselves only heightens at Christmastime. 
When we read the Christmas story and hear how humbly Jesus came, it may affront our superhero sensibilities. Shepherds? A manger? Bethlehem? But from God's perspective, there's only one superhero: "I am the LORD; that is my name; my glory I give to no other, nor my praise to carved idols." (Isaiah 42:8, ESV)
To God, being born in a stable is no lowlier than being born in a palace. He's not impressed with human power, prestige, or prosperity. He's not impressed with our houses, our children, our productions, or our careers. It's all small compared to Him. Any time He condescends to interact with humans (and that's all the time), He's humbling Himself beyond our comprehension.
On the flip side, being born in a stable was just as important to Him as being born in a palace.
Have you ever considered that God knew the shepherds' names? In our traditions and legends, we've given names to the wise men (of course). But God knew the shepherds, too. They weren't just a random bunch who happened to be in the right place at the right time. He knew how old they were, what their families were like, which sheep they liked best. Before they were born, He planned to send the angel that night, specifically to those shepherds.
And He knows us, too. No matter how ordinary. The one who pulls off the most impressive Christmas party doesn't impress Him. The one who doesn't mail Christmas cards until after New Year's doesn't disappoint Him.
He knows our failures, our hurts, our fears. He knows why Christmas may be painful to you this year, or why it may be especially joyous. He sent Jesus into it all. He sent Jesus to you.
Instead of trying to be superheroes this year, let's celebrate the real Superhero. Let's worship Him and tell others how great He is.
It's what the shepherds did.
---
Know someone who would be encouraged by this? Please share!
---
---
Sign up to have my free weekly devotions
delivered to your inbox.
---