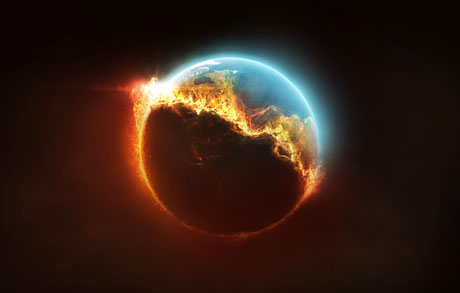 What do you do when it seems like the world is falling apart? When every day you hear news stories of conflict and tragedy?
We're not the first generation to live in tumultuous times. In fact, I'm convinced every generation has to face this kind of question.
In Noah's time, "The LORD saw that the wickedness of man was great in the earth, and that every intention of the thoughts of his heart was only evil continually" (Genesis 6:5, ESV, emphasis added).
After Joseph's death, the Egyptians "ruthlessly made the people of Israel work as slaves and made their lives bitter with hard service, in mortar and brick, and in all kinds of work in the field. In all their work they ruthlessly made them work as slaves. […] Then Pharaoh commanded all his people, 'Every son that is born to the Hebrews you shall cast into the Nile.'" (Exodus 1:13-14, 22, ESV, emphasis added)
Throughout the Old Testament, God's people face hardship and persecution, sometimes unfairly, and often because of their own rebellion.
In the New Testament, Jesus promises, "You will hear of wars and rumors of wars. See that you are not alarmed, for this must take place, but the end is not yet. For nation will rise against nation and kingdom against kingdom, and there will be famines and earthquakes in various places. All these are but the beginning of the birth pains. Then they will deliver you up to tribulation and put you to death, and you will be hated by all nations for my name's sake." (Matthew 24:6-9, ESV, emphasis added)
In every one of these situations, God preserves a remnant: an individual, a family, or a group of people who remain faithful to God in the midst of trying times.
In Isaiah, God says He will "empty the earth and make it desolate, and he will twist its surface and scatter its inhabitants. […] The earth shall be utterly empty and utterly plundered." (Isaiah 24:1-3, ESV)
I'd say that description would qualify as trying times, maybe even as the world falling apart.
But God follows it up with: "He will swallow up death forever, and the LORD God will wipe away tears from all faces, and the reproach of his people he will take away from all the earth, for the LORD has spoken. It will be said on that day, 'Behold, this is our God; we have waited for him, that he might save us. This is the LORD; we have waited for him; let us be glad and rejoice in his salvation." (Isaiah 25:8-9, ESV, emphasis added)
Those who will be saved at the end of the trying times are those who wait for the Lord.
And what does it mean to wait for the Lord?
"You keep him in perfect peace whose mind is stayed on you, because he trusts in you. Trust in the LORD forever, for the LORD GOD is an everlasting rock. […] O LORD, we wait for you; your name and remembrance are the desire of our soul. My soul yearns for you in the night; my spirit within me earnestly seeks you." (Isaiah 26:3-9, ESV, emphasis added)
The remnant focuses on God. The remnant thinks about the person and works of God. The remnant goes to war against worry and actively chooses to trust God. The remnant longs for God. The remnant prays to God. The remnant seeks God.
When the world seems like it's falling apart, the remnant doesn't expect salvation from anyone but God, but the remnant does expect salvation from Him.
---
 Know someone who would be encouraged by this? Please share!
---
---
Sign up to have my free weekly devotions
delivered to your inbox.
---