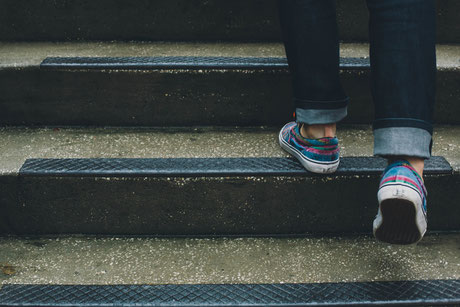 For a couple of years, my brother and I were the only gospel-believing Christians in our high school of 2,000. I knew God wanted me share His word with other students, so I found myself scouring the student handbook, trying to find out how to legally start a Bible study on campus.
We were in a French school, so the rules were a little different than they are here in the US.  I had to write a proposal and get permission from the principal: that gruff man who had visited our classes on the first day of school and told us he didn't care if we smoked as long as it wasn't in front of him. I had rarely seen him since, but I knew his office was on the second floor of the administration building.
That's how I ended up climbing a lonely flight of stairs, clutching a sample Bible study – the first I'd ever written – and listening to my heart pound against my rib cage. I didn't tell any of my friends what I was doing. They wouldn't have understood.
The principal was polite, but still as intimidating as I expected. I thought I saw him smirk as I squeaked out my request. He said he would talk it over with the student council, and I thanked him. I paused in the stairwell to breathe a prayer and a sigh of relief.
I was invited back to his office a couple of weeks later, only to be told I could not start a Bible study.
Then God sent a couple of French college-aged believers to our church for the summer. They spent time with my brother and me and encouraged us not to give up. They met with us and some young adults in our church, and we came up with the idea of starting a monthly movie night in the apartment where our church met. My brother and I invited our friends, and we ran about twenty people every month throughout my senior year. Each month, I prepared a discussion that tied in themes from the movie with Scripture.
It was through those movie nights that my friend Rachel came to know Jesus. It was through those movie nights that teens from other churches were encouraged to become serious about their faith.
It wasn't the Bible study I thought I would start. But it was the work God had planned. And it wouldn't have happened if I hadn't taken that terrifying trek to the principal's office.
"For we are his workmanship, created in Christ Jesus for good works, which God prepared beforehand, that we should walk in them." Ephesians 2:10, ESV
What is God calling you to do? What good works has He prepared for you? Don't be afraid to take that first step.
Or, on second thought: be afraid, but take the first step anyway.
The God who prepared good works for you is the same God who "being rich in mercy, because of the great love with which he loved us, even when we were dead in our trespasses, made us alive together with Christ – by grace you have been saved – and raised us up with him and seated us with him in the heavenly places in Christ Jesus, so that in the coming ages he might show the immeasurable riches of his grace in kindness toward us in Christ Jesus." Ephesians 2:4-7, ESV.
No amount of failure can take His love from you.
If He is mighty enough to save you by His grace, He is mighty enough to use you for His glory.
Go for it.
---
What good works is God calling you to? Leave a comment below! 
Know someone who would be encouraged by this? Please share!
---
---
Sign up to have my free weekly devotions
delivered to your inbox.
---