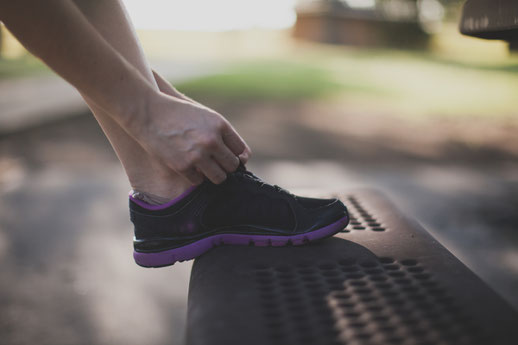 My daughter got a pair of new shoes today. As soon as she opened the box and pulled them on, she and her brother started running back and forth across the living room, crashing into the wall on either side.  She was convinced that these bright pink and purple shoes made her run faster. 
Wouldn't it be nice if we could put on a new pair of shoes or a new jacket and all of a sudden we would have more energy or more patience or more ________ (fill in your favorite virtue)? 
There are plenty of days when I need more strength. Of course, I know I can go to God for strength, but sometimes I forget just how powerful He is. Or how close He is. Or that He actually wants to help.
I'm sure you're familiar with Isaiah 40:29-31 that says: "He gives power to the faint, and to him who has no might he increases strength. Even youths shall faint and be weary and young men shall fall exhausted; but they who wait for the Lord shall renew their strength; they shall mount up with wings like eagles; they shall run and not be weary; they shall walk and not faint." (ESV)
Those verses are so encouraging to me. And I'm even more encouraged to read the verse that comes before. Verse 28 says: "Have you not known? Have you not heard? The Lord is the everlasting God, the Creator of the ends of the earth. He does not faint or grow weary; his understanding is unsearchable." (ESV)
Our power comes from a God who is never tired. Our strength comes from a God who never falls.  He is the Creator who was there in the beginning and the everlasting God who will be there forever. And we have unlimited access to His might.
There's a promise here: "They who wait for the Lord shall renew their strength." There's also a condition: "They who wait for the Lord shall renew their strength."
Not "they who get their lives together."
Not "they who are successful in their work, friendships, marriages, and parenting."
Not "they who weren't too discouraged to begin with."
Just "they who wait for the Lord."
Since the context of this passage talks about idols and their inferiority to the living God, I think the idea here is "they who turn to God rather than somewhere else in their time of trouble."
I don't know what your trouble is today. Maybe it's big. Maybe it's small. Maybe you don't even know how to put it into words. But I do know God can handle it.
Take it to Him. Not to Facebook. Not to chocolate. Not to coffee. Not even to your running shoes.
Just Him.
---
Leave a comment below! 
Know someone who would be encouraged by this? Please share!
---
---
Sign up to have my free weekly devotions
delivered to your inbox.
---