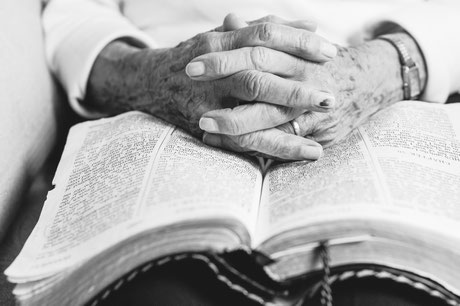 Do you ever get tired of hearing the same thing over and over again in the news?
After you've walked with Christ for a while, sermons and Bible reading can start to seem like old news, too. You might not think you know it all, but you think you know most of it.
It's exciting when a Bible teacher or preacher can point out a new connection or insight. You're constantly on the lookout for something that goes "deeper." Still, you often find yourself skimming or tuning out on God's Word, because, after all, you've probably already heard it.
The Hebrews knew a lot, too. But the writer of Hebrews tells them, "You have become dull of hearing. For though by this time, you ought to be teachers, you need someone to teach you again the basic principles of the oracles of God. You need milk, not solid food." (Hebrews 5:11-12, ESV)
Lest we think these Hebrews didn't really know much about the Christian faith, the writer goes on to say: "Therefore let us leave the elementary doctrine of Christ and go on to maturity, not laying again a foundation of repentance from dead works and of faith toward God, and of instruction about washings, the laying on of hands, the resurrection of the dead, and eternal judgment." (Hebrews 6:1-2, ESV)
These Hebrews were sticky with knowledge like a toddler with a popsicle. Yet they're still just toddlers in the faith.
Why?
What does it mean to be a "mature" Christian? How do we go deeper than understanding all the ins and outs of spiritual gifts and of the end times?
The answer is right in the middle of the two passages we saw about the Hebrews' immaturity: "But solid food is for the mature, for those who have their powers of discernment trained by constant practice to distinguish good and evil." (Hebrews 5:14, ESV)
A mature Christian constantly practices distinguishing good and evil. In other words, a mature Christian practices what she knows to be true based on her study of Scripture. Anybody can know the Bible. Only a mature Christian does what it says. And in doing what the Bible says, a Christian becomes mature.
This is why it is so important to hear and read the basics over and over again. They're not boring. They're the path to maturity.
Now, give me just a second to shout a big: "DANGER!" We can go right back to where the Hebrews used to be if we start to think that our practice of the faith is what makes us Christians. Or that maturity in the faith somehow earns us God's love and approval. The very first, foundational teaching with which the Hebrews were acquainted was this: "repentance from dead works and faith toward God." The Hebrews became Christians when they repented. But not from sin! They repented from dead works! Why would the writer encourage them to go right back to dead works? No, indeed, they now have "faith toward God," and that is what makes them Christians. Maturity is not the same thing as redemption.
That said, once we are in a relationship with Christ, we want to grow closer to Him. Knowledge of Scripture is part of that. Practicing Scripture is a greater part.
---
Leave a comment below! 
Know someone who would be encouraged by this? Please share!
---
---
Sign up to have my free weekly devotions
delivered to your inbox.
---