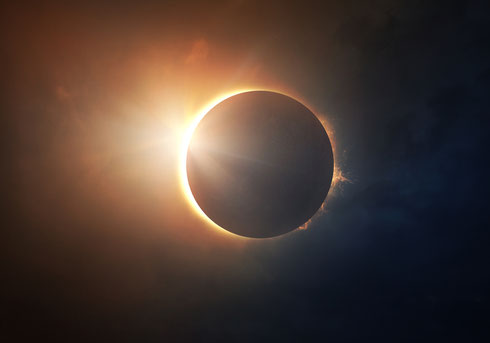 "The only safe way to look directly at the uneclipsed or partially eclipsed sun is through special-purpose solar filters, such as 'eclipse glasses'…" (NASA)*
I stressed this to my children repeatedly. I protected my own eyes and watched over theirs. I knew that the sun's powerful rays could cause irreparable damage. Our eyes just aren't designed to handle that much light.
During the eclipse, the sun's brightness amazed me. When only a sliver of sun was showing, the earth was still light enough for us to see. Our eclipse glasses were so dark we couldn't see anything around us except the sun, which was bright enough to shine through.  
We dared not look at the sun directly for fear its brightness would overwhelm us.
And yet, a day is coming when, "The moon will be confounded, and the sun ashamed, for the LORD of hosts reigns on Mount Zion and in Jerusalem, and his glory will be before his elders." (Isaiah 24:23, ESV)
The sun will be ashamed. Our blazing, burning star will pale like a sparkler at a fireworks display. It will run and hide like a minnow when the shark shows up. And God's glory will truly eclipse the sun.
NASA has no warning strong enough for a God-viewing. In Old Testament times, God's people knew that it was extremely dangerous to look directly at God. Their sin was too great; His holiness too strong. Many feared for their lives when He got too close (see Exodus 19, Deuteronomy 5, Judges 13, and Isaiah 6, for example).
And so, when we could not approach Him, He approached us. He cloaked Himself in human nature "though He was in the form of God […]. And being found in human form, he humbled himself by becoming obedient to the point of death, even death on a cross." (Philippians 2:6, 8)
Because of His sacrifice, we can look at Him safely. "Let us then with confidence draw near to the throne of grace, that we may receive mercy and find grace to help in time of need." (Hebrews 4:16, ESV)
I would say, "The only safe way to look directly at God, or speak directly to God, is through the specially-designed filter named Jesus."
I want to be mindful of that filter every time I pray. There is nothing in me that merits direct access to God. His presence is a free gift, and that gift is worthy of even more excitement than a total solar eclipse.
* "How to View the 2017 Solar Eclipse Safely," NASA, https://eclipse2017.nasa.gov/safety, accessed August 21, 2017
---
Leave a comment below! 
Know someone who would be encouraged by this? Please share!
---
---
Sign up to have my free weekly devotions
delivered to your inbox.
---