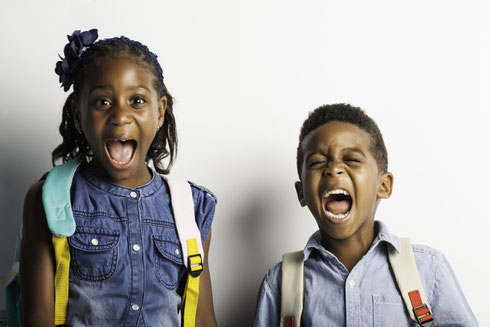 My house can get very, very noisy. Two of my children have yet to learn the concept of waiting their turn to speak. All three of them like to make what my mom calls "nonsense noise." My youngest is still learning to express himself in complete thoughts, but I like to say that what he lacks in eloquence, he makes up for in volume. Sometimes I try to bring order to the cacophony. At other times, I simply wave my hands like a conductor directing a wonderfully disharmonious symphony.
The noise gets hard to handle, though, when everyone is asking for something. Apparently, it is necessary to ask repeatedly with increasing volume until I deliver. After all, if they stop asking for five seconds, I might forget. (I will admit, I have been known to forget in that amount of time, so it's difficult to argue. But then, it's difficult to argue over three children demanding different things at the same time anyway.)
Thankfully, God is not the type to forget after five seconds. Or five decades.
"And when you pray, do not heap up empty phrases as the Gentiles do, for they think that they will be heard for their many words. Do not be like them, for your Father knows what you need before you ask him." (Matthew 6:7-8, ESV)
"Do not be anxious saying, 'What shall we eat?' or 'What shall we drink?' or 'What shall we wear?' For the Gentiles seek after all these things, and your heavenly Father knows that you need them all." (Matthew 6:31-32, ESV)
The Gentiles (in this passage, those who do not know God) are anxious because they don't know how their needs will be met. Because of their anxiety, they pray frantic prayers, accumulating and repeating words in a last-ditch effort to get what they want.
But Jesus says we don't have to pray like preschoolers.
"Your Father knows what you need before you ask him…your heavenly Father knows that you need them all."
The God of the Universe knows what you're going to eat for lunch today. He knows what's in your closet. And He knows what's in your heart. He knows when you're discouraged, lonely, and weary. He knows when there's something missing in your life.
And He wants you to pray.
Not frantically or with fancy words. He just wants you to ask for what you need. He already knows what it is; there's no need to convince Him. But He loves you so much that He wants you to come to Him and simply ask, "Give us this day our daily bread" (Matthew 6:11,ESV).
"And my God will supply every need of yours according to his riches in glory in Christ Jesus." (Philippians 4:19, ESV)
"He who did not spare his own Son but gave him up for us all, how will he not also with him graciously give us all things?" (Romans 8:32, ESV)
Whether your home is too noisy or too quiet, God is in it. He is waiting to hear from you.
---
Leave a comment below! 
Know someone who would be encouraged by this? Please share!
---
---
Sign up to have my free weekly devotions
delivered to your inbox.
---