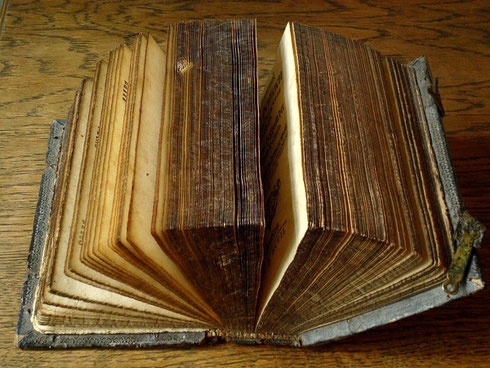 One week from today marks the 500th anniversary of the Protestant Reformation. October 31, 1517, is the day on which Martin Luther purportedly nailed his 95 theses to the door of the church at Wittenberg, kicking off a tumultuous period of time during which many would leave the corrupt practices of the 16th century Catholic church and discover the Scriptures for themselves.
That day was far from the beginning for Luther himself. As a monk, his life was characterized by strict discipline.  He was serious about study, prayer, and the sacraments, especially penance.  He spent much time in prayer, fasting, sleepless nights, and flagellation.  He also pursued theological studies and became a priest and a professor.  In all of this, he agonized over his inability to attain a righteousness that would meet God's standard.
Along with Paul, Martin Luther could have said, "If anyone thinks he has reason for confidence in the flesh, I have more." (Philippians 3:4, ESV). By all external standards, Luther was a good person. He was one of the most righteous people imaginable. But he knew his own heart. He knew that all sin – in thought, word, or deed – was deserving of condemnation. And he knew that he could never measure up to God's righteousness. In fact, he found God's righteousness terrifying, since it only served to reveal his own inadequacy.
Then, in the midst of all the accusations he brought against himself, Martin Luther turned to Scripture. There he discovered what his soul longed for: the confirmation that he could not attain righteousness on his own, but also the promise that righteousness is a gift from God.
Paul knew it, too. He described himself thus: "Circumcised on the eighth day, of the people of Israel, of the tribe of Benjamin, a Hebrew of Hebrews; as to the law, a Pharisee; as to zeal, a persecutor of the church; as to righteousness under the law, blameless. But whatever gain I had, I counted as loss for the sake of Christ […], not having a righteousness of my own that comes from the law, but that which comes through faith in Christ, the righteousness from God that depends on faith." (Philippians 3:5-9, ESV)
God's Word hasn't changed since Paul wrote it down or since Luther defended it.
Righteousness is still unattainable through anything we might do. Even "all our righteous deeds are like a polluted garment" (Isaiah 64:6, ESV). This side of heaven, we are never going to be as good as we want to be. We are going to mess up, make mistakes, and sin. And every single one of us is going to "fall short of the glory of God" (Romans 3:23, ESV).
But righteousness is still a gift.
"If anyone does sin, we have an advocate with the Father, Jesus Christ the righteous. He is the propitiation for our sins." (1 John 2:1, ESV, emphasis added).
"But now the righteousness from God has been manifested apart from the law, although the Law and the Prophets bear witness to it – the righteousness of God through faith in Jesus Christ for all who believe." (Romans 3:21-22, ESV)
The truth is still as exciting as it was five hundred years ago. We fail, but we are no longer defined by our failures. We are weak, but we are accepted. We sin, but we have been declared righteous. We don't have to agonize over the accusations, because "there is therefore now no condemnation for those who are in Christ Jesus." (Romans 8:1, ESV)
We are free, and we are loved.
---
Leave a comment below! 
Know someone who would be encouraged by this? Please share!
---
---
Sign up to have my free weekly devotions
delivered to your inbox.
---