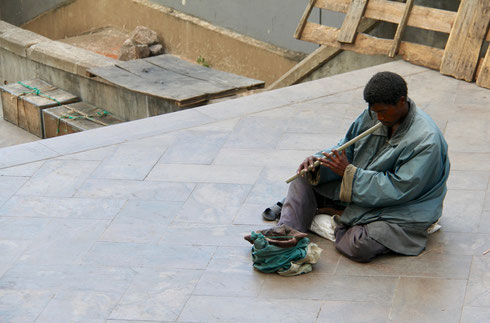 Hope is a blind man. A blind man sitting by the side of the road, begging.
His name was Bartimaeus, and the Bible doesn't tell us how long he had been blind. Long enough to have lost any resources to support himself. He no longer has any savings, any source of income, or any family to help. So he sits by the road and begs. Perhaps he's been there for years.
But he hasn't turned his back on life. He pays attention to his surroundings. And when he hears the crowd, he asks what is going on. It's Jesus of Nazareth, they say.  Jesus of Nazareth? He knows that name. He's been paying attention. He's been waiting for this. And so he cries out: "'Jesus, Son of David, have mercy on me!' And many rebuked him, telling him to be silent, but he cried out all the more, 'Son of David, have mercy on me!'" (Mark 10:47-48, ESV)
This guy is hope embodied. He's waiting for something good to come his way. He senses it even though he can't see it (or anything else for that matter). And all it takes is the name of Jesus to stir him up.
He hasn't seen Jesus. Jesus isn't even quite there yet. But he hears people saying Jesus is on His way. And he starts crying out. He doesn't care what anyone else says. Their criticism only makes him shout louder. Because he knows what he needs, and he knows who can give it.
"And Jesus stopped and said, 'Call him.' And they called the blind man, saying to him, 'Take heart. Get up. He is calling you.' And throwing off his cloak, he sprang up and came to Jesus." (Mark 10:49-50, ESV)
He still can't see Jesus. He can't hear Jesus either. All he has is the same people who were telling him to shut up, now telling him that Jesus is calling him. And he doesn't doubt it for one second. He throws off his cloak. He springs up. And he comes to Jesus.
"And Jesus said to him, 'What do you want me to do for you?' And the blind man said to him, 'Rabbi, Let me recover my sight.'" (Mark 10:51, ESV)
No doubting here. He knows exactly what Jesus is capable of, and he asks him for it.
"And Jesus said to him, 'Go your way; your faith has made you well.' And immediately he recovered his sight and followed him on the way." (Mark 10:52, ESV)
Bartimaeus isn't the first man in Mark 10 to call Jesus "teacher" (or Rabbi). A rich man calls Him "teacher" and asks Him how to get into the kingdom of God. Two disciples call Him "teacher" and ask to sit at His right and left hand in His glory.
None of them get what they're asking for.
Then a blind beggar calls him "teacher" and asks to have his sight back. And he gets exactly what he asks for.
Because this Teacher delights in struggling students. He loves the students everyone else is trying to get rid of because they bring the school's test scores down. He's not looking for Pharisees, rich people, or anyone who aspires to worldly greatness. He's made it clear in His views on divorce that He loves women (women!). He's made it clear in His blessing that He loves children (children!). And now, He shows that He loves blind men and beggars (Who is this anyway?!).
Jesus told Bartimaeus to go his way. But Bartimaeus gets up and goes Jesus's way.
He follows Jesus. Because that's hope fulfilled.
---
Leave a comment below! 
Know someone who would be encouraged by this? Please share!
---
---
Sign up to have my free weekly devotions
delivered to your inbox.
---