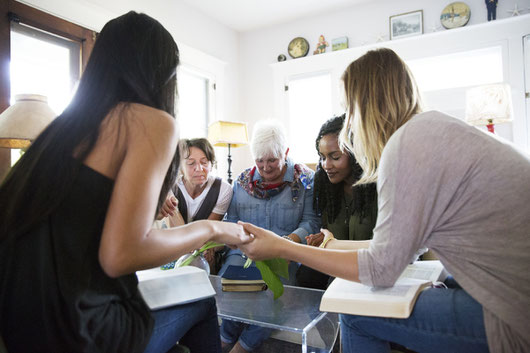 Last week I wrote about being such a bad mom (or wife, friend, church member, etc.) that I deserve to spend eternity in hell. I know this about myself. But other people sometimes forget.
Likewise, I sometimes forget that all the other women around me are so bad that they deserve to spend eternity in hell.
"None is righteous; no, not one." (Romans 3:10, ESV)
That colleague who is so successful? The classmate who is so poised and always better dressed than you? The homeschooling mom of six who makes it look easy? The friend who always has a more godly reaction than you? The family member with the perfect house and the great conversational skills?
"We all once lived in the passions of our flesh, carrying out the desires of the body and the mind, and were by nature children of wrath, like the rest of mankind." (Ephesians 2:3, ESV, emphasis added)
"All we like sheep have gone astray;
we have turned – every one – to his own way." (Isaiah 53:6, ESV, emphasis added)
Apart from God Himself, there is not a person in the world who is better than you.
I'm convinced that comparison to other women is one of Satan's primary strategies in our culture to keep Christian women from fulfilling their God-given callings.
I don't even like calling it "comparison." That's just another sugar-coated term to avoid admitting what we're really doing. When we "compare" ourselves, we're either envying or boasting. We envy the woman who seems to be doing better than us. We boast when we seem to be doing better than someone else.
"Love does not envy or boast." (1 Corinthians 13:4, ESV)
You can't love someone and compare yourself to them at the same time. Yes, you can love and compare yourself to the same person, but not at the same time. Love rejoices in someone else's successes, recognizing the successes as undeserved blessings from the same God who undeservedly blesses you. Love prays for someone else's struggles, recognizing that the struggles stem from the same sinful nature that resides in you.
Love isn't intimidated by others, because love knows we're all terrible sinners (yes, even her). Love isn't afraid to step out, because love knows we're all "created in Christ for good works, which God prepared beforehand, that we should walk in them." (Ephesians 2:10, ESV). Love doesn't worry about whose "good works" are best or who is doing the best job at her "good works." Love just does the good works – with thanksgiving that God would entrust them to us in the first place.
Stop comparing yourself to a bunch of people who are just as bad as you are. Start rejoicing in the God who loves us all.
---
Leave a comment below! 
Know someone who would be encouraged by this? Please share!
---
---
Sign up to have my free weekly devotions
delivered to your inbox.
---