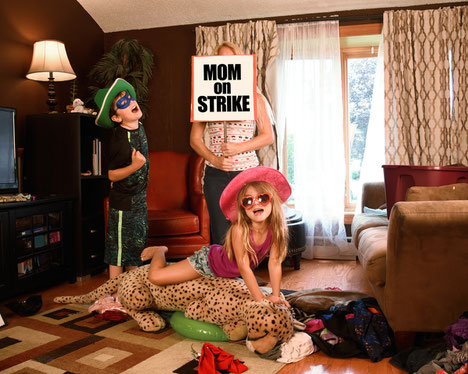 Yesterday was one of those days. Those days when I think I love the idea of homeschooling, but I do not like actual, real-life homeschooling.
It's not the schooling so much. It's trying to keep one distracted child focused on math while another child stomps angrily around the living room because "sounding out words is not fun!" and another child climbs on the counter, opens the Tupperware of leftover pancakes, and takes exactly one bite out of every. single. one.
When I feel overwhelmed, I try to remember an experience with my daughter several months ago. We had the opportunity to go on a trip where I spoke at a women's conference and where my daughter got to see her grandparents. On our first flight, we sat in the very back row of the plane – the one where I tend to feel claustrophobic because the overhead baggage compartment slants down into my overhead space.
My daughter's perspective was a bit different than mine. We buckled in, and she exclaimed, "These are really big seats with lots of room!" And since she loves turbulence, they did indeed prove to be great seats.
On the way back, we settled into an older plane where the upholstery was outdated and worn. A female voice came through the speaker, "This is Christine, your captain for this flight."
I leaned over to my daughter and whispered, "There's a lady flying this plane!"
My girly-girl, who was previously unimpressed, looked around and gasped, "Wow! This girl pilot sure has a fancy plane!"
It's all about perspective.
Here's how the biblical writers Paul and James present it:
"For I consider that the sufferings of this present time are not worth comparing with the glory that is to be revealed to us." (Romans 8:18, ESV)
"Count it all joy, my brothers, when you meet trials of various kinds, for you know that the testing of your faith produces steadfastness." (James 1:2-3, ESV)
Consider. Count. These are words that occur in the mind. They're all about perspective. God cares not only that we make it through trials. He cares about our attitude.
There are good reasons to change our perspective on suffering and trial. In Romans, Paul compares doesn't even bother comparing suffering to future glory. He placed his sufferings (which were far greater than mine!) on one side of a balance and then put the hope of heaven on the other side. The difference was too great to be expressed. So he swiped the sufferings off the scale and said the two weren't even worth comparing.
In James, we find hope not just in the eternal future but in the immediate future. Trials grow us. They teach us to be steadfast, to endure. "And let steadfastness have its full effect, that you may be perfect and complete, lacking nothing" (James 1:4, ESV). This growth is too good to be a silver lining. It makes the whole cloud beautiful. That's why we can count trials all joy.
What's your perspective on trials? Do you hate turbulence like me? Or are you excited about any experience as long as it gets you closer to grandma's house?
I'm going to change my attitude today.
And since the little pancake-eater just gave me a big hug and told me I am the best mommy in the whole, wide, world, I consider that it's going to be worth it.
---
Leave a comment below! 
Know someone who would be encouraged by this? Please share!
---
---
Sign up to have my free weekly devotions
delivered to your inbox.
---