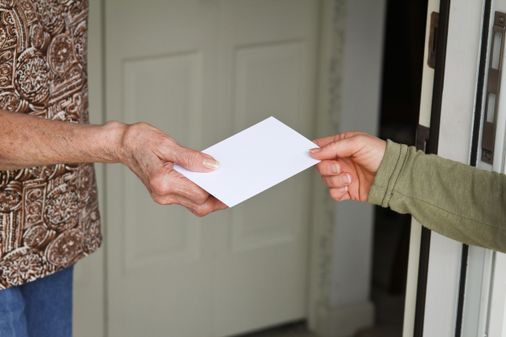 "I love it when I get mail," one of my kids said this weekend. I have to admit, I love it too. There's something special about receiving a letter that's just for me.
But not all mail is created equal. Mail has a variety of purposes:
a short note can bring thanks or encouragement
a card can bear congratulations or sympathy
a bill presents the expectation of payment
a package fulfills an order
junk mail…well, its purpose is dubious
Have you considered that you are mail, too? You've been sent on a mission. So what kind of letter are you?  What are you called to every day?
Before he left the earth, Jesus was very clear what our purpose is, on what kind of mail he intends us to be.  Acts 1:1-5 tells us that after Jesus's resurrection, He spent forty days appearing to the apostles and teaching them about the kingdom of God. He then told them not to leave Jerusalem but to wait, because they were soon to be baptized with the Holy Spirit.
The disciples were so excited that Jesus had come back to life.  They had been confused and discouraged when he did not prove to be the kind of Messiah they thought he would be.  Maybe now was the time when he would establish the kingdom of Israel. "So when they had come together, they asked him, 'Lord, will you at this time restore the kingdom to Israel?" (Acts 1:6, ESV)
And Jesus says, "You don't really need to know when that time is" (see Acts 1:7).  But it is time for something. 
"But you will receive power when the Holy Spirit has come upon you and you will be my witnesses in Jerusalem and in all Judea and Samaria, and to the end of the earth." (Acts 1:8, ESV)
Jesus is saying that until He returns to set up His kingdom, it's our job to grow that kingdom. It is time for us to be His witnesses.  That's what this whole age is about.
If you are a follower of Christ, then you are a letter sent to the world. You're sent with a specific message: "There if anyone is in Christ, he is a new creation. The old has passed away; behold, the new has come. All this is from God, who through Christ reconciled us to himself and gave us the ministry of reconciliation; that is, in Christ God was reconciling the world to himself, not counting their trespasses against them, and entrusting to us the message of reconciliation." (2 Corinthians 5:17-19, ESV)
Do you know what that means? It means that if you don't have an intimate relationship with God, you can be reconciled to Him through Christ (click here to find out more). And if you have already been reconciled to God, He's entrusted you to share that message with others.
Over the next several weeks, I'll share encouragement, ideas, and stories to help you on your journey to be God's mail to the world.
Until then, keep in mind…
You exist to tell others about Jesus.