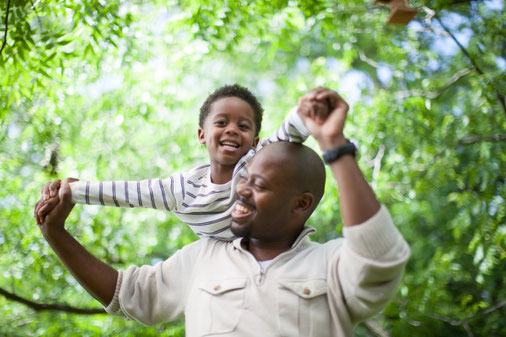 Father's Day gifts are interesting around my house. One of my kids wanted to give Daddy something that was way out of our price range. Another resisted giving him even the simple, handmade gift from Sunday school (there was candy inside, after all).
One of the best gifts they've given to my husband was for his most recent birthday. My son beamed as he looked up at his dad. "Look, Dad, I made these for you myself." He handed him a book of illustrated coupons. "You can turn them in anytime you want!"
My husband read through the coupons:
Good for watching one movie with your son.
Good for playing one board game with your son.
Good for one hour of Lego-building with your son.
Good for taking your son out and buying him a donut.
I could hear the chuckle in my husband's voice as he read. My son hadn't missed any of his favorite things to do with his dad. It would have seemed selfish if it wasn't so cute.
And yet my son was offering his most precious resource. His time. His presence. His undivided attention.
Himself.
"Six days before the Passover, Jesus therefore came to Bethany, where Lazarus was, whom Jesus had raised from the dead. So they gave a dinner for him there. Martha served, and Lazarus was one of those reclining with him at table. Mary therefore took a pound of expensive ointment made from pure nard, and anointed the feet of Jesus and wiped his feet with her hair. The house was filled with the fragrance of the perfume." (John 12:1-3, ESV)
It's reminiscent of another dinner Mary and her siblings held for Jesus:
"Now as they went on their way, Jesus entered a village. And a woman named Martha welcomed him into her house. And she had a sister called Mary, who sat at the Lord's feet and listened to his teaching. But Martha was distracted with much serving. And she went up to him and said, 'Lord, do you not care that my sister has left me to serve alone? Tell her then to help me.' But the Lord answered her, 'Martha, Martha, you are anxious and troubled about many things, but one thing is necessary. Mary has chosen the good portion, which will not be taken away from her.'" (Luke 10:38-42, ESV)
Mary consistently gave her best to the Master. She gave her time, her most precious resources, and her love. She offered herself.
Likewise, "I appeal to you therefore, brothers, by the mercies of God, to present your bodies as a living sacrifice, holy and acceptable to God, which is your spiritual worship." (Romans 12:1, ESV)
Father's Day has passed, but it's not too late to offer your most precious gift to the Heavenly Father who has adopted you into His family. Invite Him into every moment of your life: the time you spend watching movies, the time you spend with friends, the conversations you have with family, the decisions you make at work and at church.
And set aside some time each day that is just for Him. Read His Word. Talk with Him.
Give Him yourself.