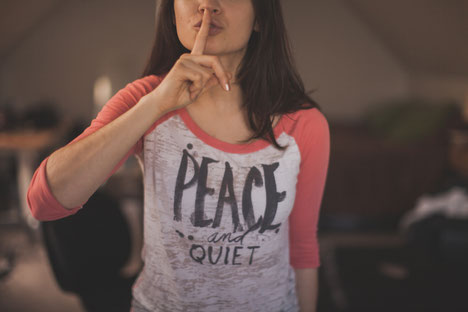 Hi, friends! I'm sorry my devotions haven't been coming every week over the summer! I've been busy on the home front taking care of my higher priorities, but I'm hoping to get back to a normal routine very soon. Thanks for your patience!
Today's devotion is a bit longer than usual, but it's a story that's been working its way into my soul over the last couple of years. It's one of the most dangerous stories of Scripture. A woman speaks a word of criticism, and she is barren for the rest of her life.
"As the arc of the Lord came into the city of David, Michal the daughter of Saul looked out of the window and saw King David leaping and dancing before the Lord, and she despised him in her heart. And they brought in the ark of the Lord and set it in its place, inside the tent that David had pitched for it. And David offered burnt offerings and peace offerings before the Lord. […] And David returned to bless his household. But Michal the daughter of Saul came out to meet David and said, 'How the king of Israel honored himself today, uncovering himself today before the eyes of his servants' female servants, as one of the vulgar fellows shamelessly uncovers himself!' And David said to Michal, 'It was before the Lord who chose me above your father and above all his house, to appoint me as prince over Israel, the people of the Lord – and I will celebrate before the Lord." (2 Samuel 6:16-17, 20-21, ESV)
The danger is not that it's a word of criticism. It's toward whom the criticism is directed, how the criticism is delivered, and what the criticism is about.
First, who: Michael criticizes her husband, the Lord's anointed. David is in a double position of authority over her: he is her husband, and he is her king. In addition, David is the king God has chosen to restore order to Israel and to guide the nation in a return to following the Lord. We ought to be very careful about criticizing those God has placed in authority over us, and especially those who are fellow Christians and have been anointed by the Holy Spirit to carry out the work of the Lord. I'm not saying that leaders shouldn't be held accountable, but that we should be especially cautious in differentiating between sinful behavior and personal preference.
Second, how: Michal doesn't pose a respectful question to her husband to better understand his actions. Instead she is sarcastic. "How the king of Israel honored himself today." It's obvious that Michael does not believe David actually honored himself. She's disrespectful and contentious and her approach.
Third, what: Michal is criticizing David for his worship. Of all the things someone could be criticized for, worshiping the Lord is probably the worst. David is celebrating God's work. He is honoring the Lord and holding His name high before the people. And all Michael can do is do is criticize the way in which he is going about it.
It reminds me a bit of how Christians criticize one another for the songs we prefer to sing. Do you prefer hymns, psalms, or contemporary praise songs? They're all in Scripture, and they're all commanded:
"Let the word of Christ dwell in you richly, teaching and admonishing one another in all wisdom, singing psalms and hymns and spiritual songs, with thankfulness in your hearts to God." (Colossians 3:16, ESV).
I'm sure we all have our preferences when it comes to musical style, and that's okay. It's also okay that some people prefer to stand still in reverence while others prefer to raise their hands or bow their knees in adoration. What's not okay is criticizing people who worship differently than us (as long as their worship is in line with Scripture).
I am extremely hesitant to speak against a certain worship style. After all, I don't want to end up like Michal. Instead of criticizing those who worship differently, we could celebrate that people from diverse backgrounds with diverse tastes are all lifting praise to our King.
This particular devotion is a bit confrontational, I know, and I'm not intending to single anyone out. But I think Scripture gives us a strong warning in the story about Michael. And I think we would be wise to heed it.
---
Leave a comment below! 
Know someone who would be encouraged by this? Please share!
---
---
Sign up to have my free weekly devotions
delivered to your inbox.
---