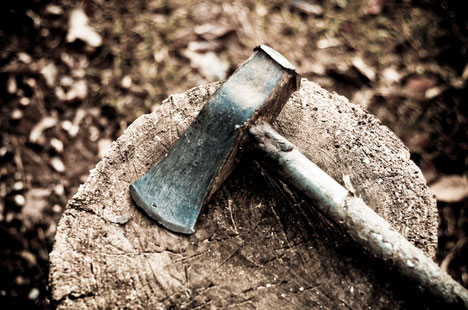 Have you ever had a log in your eye?
My log didn't bother me much when I was younger, but once I got married, it started manifesting itself at inconvenient times. I would turn around too fast and conk my husband in the head. Or he would jab me with the twig coming out of his eye, so I would pull out my log and beat him with it.
And then I had kids. Sometimes it's hard to walk around the house with those little guys always getting in the way of my log. They trip over it when I'm in a hurry. Then I have to help them up, which isn't always easy due to the long protrusion from my eyeball.
Other people can make it difficult, too. If they could just understand that this log is part of who I am and that they need to rearrange their lives to accommodate my log, then we would get along just fine. At least I would be happier, and that's the whole point of this log anyway, you know?
Not that I particularly like the log. I trim it back every once in a while. And I try to keep it hidden in most social situations. But when it really comes down to it, I guess you could say I've grown attached to this log. It's always been there. I wouldn't know how to live without it.
I see other people with branches and sticks and sawdust in their eyes, and boy, is it unattractive. They should do something about that. Not like me. See, I know how to handle my log. I can manage it. Sure, I fall over a few times a day because it's so heavy, but that's no big deal. And a lot of other people get hurt on my log, but frankly, it's their own fault for not paying attention.
Okay, fine, I know what you're thinking: I really should get rid of this log. But that's a lot easier said than done. It might take time, and I'm awfully short on that. I'm just so busy doing other things. Good things. Things that help people. And that ought to make up for the log anyway. Plus, if God wanted to take it away, He would. I've asked Him plenty of times to take it away, and He hasn't.
"How can you say to your brother, 'Brother, let me take out the speck that is in your eye,' when you yourself do not see the log that is in your own eye? You hypocrite, first take the log out of your own eye, and then you will see clearly to take out the speck that is in your brother's eye." (Luke 6:42, ESV)
Oh, so now you're going to quote Scripture at me? That's great, and I believe it, but I don't know how. Every time I try, I make a little progress, and then I fall right back into old habits. It's no use. I can't overcome this. It's too big.
"Three times I pleaded with the Lord about this, that it should leave me. But he said to me, 'My grace is sufficient for you, for my power is made perfect in weakness.' Therefore I will boast all the more gladly of my weaknesses, so that the power of Christ may rest upon me. […] For when I am weak, then I am strong." (2 Corinthians 12:8-10, ESV)
You're right. God will help me.
Not in a distant, impersonal, just-make-it-go-away kind of way. But in a daily, walking together, being-completely-dependent-on-Him-every-minute kind of way. For that to work, I'm going to have to stay close to Him. I'm going to have to talk with Him constantly. I'm going to have to look around my log – as fuzzy as my vision might be at first – and see Jesus.
I'm going to choose Jesus above my log.
Even if it hurts.
---
Leave a comment below! 
Know someone who would be encouraged by this? Please share!
---
---
Sign up to have my free weekly devotions
delivered to your inbox.
---