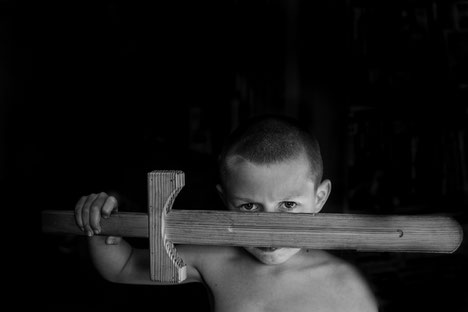 As we drove home from our church service on Sunday, I asked my kids what they had learned in Sunday school. They said their lesson was on Jacob and Esau and recounted a few key facts from the story.
Then my three-year-old asked: "Which one of them was rough and tough?"
I began to describe Esau as a strong hunter who provided for his family. As I spoke, I began to anticipate my son's reaction. If Esau was "rough and tough," then surely my son would prefer him. He was the hero. He was a man's man.
To a three-year-old boy, "rough and tough" is the epitome of glory.
My mind scrambled to find something good to say about Jacob. After all, I can't have my son become disillusioned with Scripture when he finds out next week that God chose Jacob to carry out His promise. And what about when he reads the prophets with all their condemnation of Edom, the nation descended from the "rough and tough" guy?
Surely there was something glorious about Jacob. Something even better than being "rough and tough."
Let's see. He was a trickster. He stayed in the tents with mom. He lied to his dad. He ran away when Esau got angry with him.
Nope. Jacob really didn't have much going for him.
So I asked my kids, "Which one do you think most humans would choose to be the father of God's people? You know, to be a hero of the Bible? Jacob? Or Esau?"
"Esau!" they cheered.
Yep. They were paying attention.
But God doesn't think like a human. His ways are higher than our ways. He chose Jacob.
Have you noticed that God always chooses weak people? He chose David when all of his brothers looked like better candidates for king. "For the Lord sees not as man sees: man looks on the outward appearance, but the LORD looks on the heart." (1 Samuel 16:7, ESV)
He still works in the same way:
"For consider your calling, brothers: not many of you were wise according to worldly standards, not many were powerful, not many were of noble birth. But God chose what is foolish in the world to shame the wise; God chose what is weak in the world to shame the strong; God chose what is low and despised in the world, even things that are not, to bring to nothing things that are." 1 Corinthians 1:26-28, ESV
I don't know about you, but I'm not "rough and tough."
And that's okay.
I don't have be wise or strong or powerful or respected. I would rather be chosen by God any day.
---
Leave a comment below! 
Know someone who would be encouraged by this? Please share!
---
---
Sign up to have my free weekly devotions
delivered to your inbox.
---