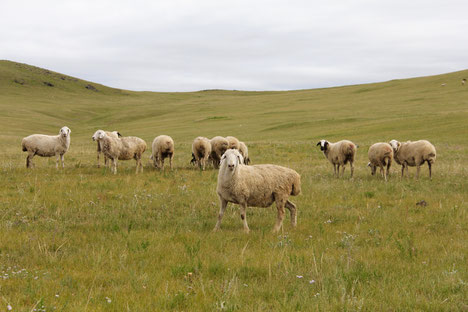 It's the same Shepherd.
The same Shepherd who leads me beside still waters also leads me through the valley of the shadow of death.
You know the Psalm, right? The one that starts out: "The LORD is my shepherd?" This Shepherd provides and leads well:
"I shall not want.
He makes me lie down in green pastures.
He leads me beside still waters.
He restores my soul.
He leads me in paths of righteousness
For His name's sake." (Psalm 23:1-3, ESV)
Sounds great. So far.
But then things take a turn for the worse:
"Even though I walk through the valley of the shadow of death…" (Psalm 23:4, ESV)
What happened to the green pastures? Where's the restoration of my soul in that? Did the Shepherd disappear? Did I run away and stop following Him?
Nope. He's right there.
"I will fear no evil,
For you are with me.
Your rod and your staff,
They comfort me." (Psalm 23:4, ESV, emphasis added)
It turns out the same Shepherd is still leading. The One who took me into green pastures is now leading me straight into danger. But He is with me. And He is still in charge.
Do you realize that wherever you're walking right now, God is leading you? He is guiding you into specific circumstances He has custom-designed for your life.
Why did He design these circumstances for you? Because He loves you! He is a good Shepherd. His rod and staff – instruments that could be painful at times – bring comfort. Why? Because God knows what you truly need. "You shall not want" means that you will have all the good that God intends for you.
Sometimes God's good for you includes an awareness of evil lurking in your heart that you hadn't noticed but that your circumstances have revealed. Sometimes God's good for you includes great weakness so you can learn to rely on Him for strength. Sometimes God's good includes a greater trust that is built only through trial.
And when things seem that they couldn't get any worse – when you have accumulated an army of enemies –
"You prepare a table before me
In the presence of my enemies;
You anoint my head with oil;
My cup overflows.
Surely goodness and mercy shall follow me all the days of my life,
And I shall dwell in the house of the LORD forever." (Psalm 23:5-6, ESV)
---
Leave a comment below! 
Know someone who would be encouraged by this? Please share!
---
---
Sign up to have my free weekly devotions
delivered to your inbox.
---