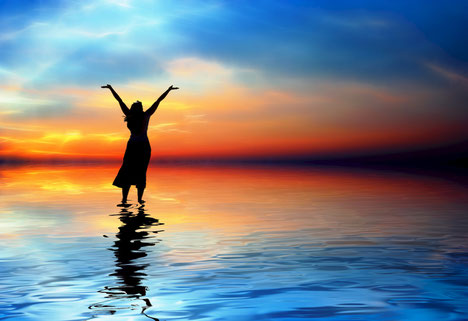 Can I remind you this week what our God is capable of?
The truth is, I really need a reminder myself. And I'm guessing you do, too. So here goes…
Our God invented light.
Our God spoke, and everything came out of nothing.
Our God destroyed the entire population of the earth (minus 8) with a flood.
Our God parted the Red Sea.
Our God made water come out of a rock.
Our God made manna appear on the ground. Every day. For forty years.
Our God conquered a city with a shout.
Our God protected a prostitute.
Our God heard cries for mercy even after decades of rebellion.
Our God opened the womb of an emotionally distraught, barren woman.
Our God slayed a giant with a stone.
Our God redeemed a man who abused his power to commit adultery and murder.
Our God sent fire to consume a wet offering when one man prayed (while hundreds were praying against him).
Our God prevented fire from burning the men in it.
Our God shut the mouths of lions.
Our God became a man.
Our God lived among us.
Our God is "not…unable to sympathize with our weaknesses, but…in every respect has been tempted as we are, yet without sin." (Hebrews 4:15, ESV)
Our God died for our sins.
Our God rose from the dead and reigns forever.
"Let us then with confidence draw near to the throne of grace, that we may receive mercy and find grace to help in time of need." (Hebrews 4:16, ESV)
"So we can confidently say, 'The Lord is my helper; I will not fear; what can man do to me?'" (Hebrews 13:6, ESV)
Wherever you are – whatever situation you're facing – please remember that God can handle it. He has not "left us as orphans" (John 14:18) but lives in us and with us and has sent His Spirit to help us in times when our hearts are troubled.
"In the world you will have tribulation. But take heart; I have overcome the world." (John 16:33, ESV)
---
Leave a comment below! 
Know someone who would be encouraged by this? Please share!
---
---
Sign up to have my free weekly devotions
delivered to your inbox.
---