I'm sorry I haven't written in so long. It has been a very busy two months. During those two months, my daughter has taken to drawing pictures of bears in bikinis. Here is one such drawing: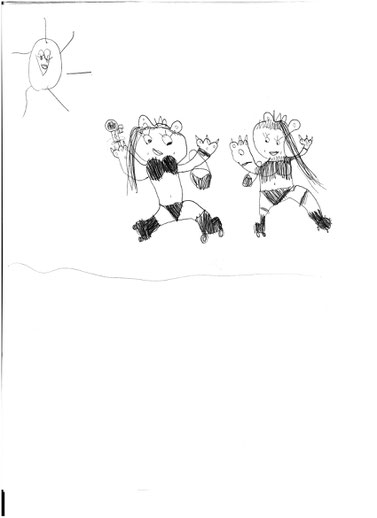 Why bears? Why bikinis? I don't know. In this particular drawing, they are roller skating, but these bears do all kinds of things.
The first time she drew these bears (always the same two), I was impressed with the quality and told her so. It's a huge step from stick figures. After I complimented her, she anticipated my one criticism before I had time to form it.
"Mommy." She said with great seriousness. "These bears are very modest."
I raised one eyebrow.
"Oh, yes, Mommy. They are very modest." She paused for dramatic effect. "Don't you know that real bears don't wear any clothes at all?" She grinned. "These bears are wearing underwear. So you see, they are very modest."
Hard to argue with that logic.
She's been drawing bears in bikinis ever since.
And I've been wondering ever since if I'm encouraging a false view of modesty. Because bears in bikinis don't look modest to me (or probably to you, either).
Why is that? Why, in this case, has adding clothes made something appear more immodest?
Well, it turns out, this devotion isn't about modesty. If it was, I'd say more clothes are better. But this is about the gospel. And the gospel is kind of like bears. It isn't meant to have anything added to it.
The simple, plain gospel is this: We are sinners and completely unworthy of God's love. But God loved us anyway.
God the Son died to pay the full penalty for every last one of our sins. Before death, He lived a perfect life to give us every last bit of righteousness required by God's holy law. After death, He rose again to give us every last hope of new and eternal life spent with God the Father.
When we throw ourselves on God's mercy – based on the life, death, and resurrection of His Son – we get everything we need for past, present, and future salvation. We are completely forgiven, completely accepted, completely adopted, and guaranteed a relationship with God now and forever.
If we add anything to that (and we all do at one time or another), well, it's like drawing bears in bikinis and calling them modest.  You can't add to the gospel of Jesus. You can't be a "better" Christian.
Sure, you can grow. You can get to know God better. You can love Him more. But He will never love you more. Because He already loves you with an unimaginable love. You can't add anything to that. So stop trying. Live for Him because you're free, not because you have to. Live for Him because you enjoy it and not because you have something to prove.
"Let me ask you only this: did you receive the Spirit by works of the law or by hearing with faith? Are you so foolish? Having begun by the Spirit, are you now being perfected by the flesh?" (Galatians 3:2-3, ESV)
Flesh can't make you right with God. And neither can fur. Or bikinis. Or good works.
Only Jesus.
---
Leave a comment below! 
Know someone who would be encouraged by this? Please share!
---
---
Sign up to have my free weekly devotions
delivered to your inbox.
---