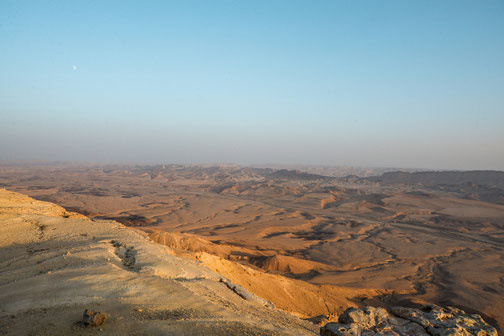 You would think I had the perfect solution to curtail whining in our homeschool. Every morning this year we started the school day by reading a chapter of the Old Testament. We read through Genesis and the first part of Exodus, and then we read story after story of whining Israelites (side note: reading Scripture out loud is a great way to really bring out some of the repetition you otherwise miss).
My kids started shaking their heads and asking, "How much more is God going to have punish them? They should have learned by now!"
And I started nodding my head and hoping my kids had learned by now, too.
So it was a great disappointment when we got to the book of Numbers and encountered another tale of whining. My daughter, with the dramatic flair only she can muster, began wailing: "Pleeeeeeeeeease, no more whiiiiiiiiiiiining. I am so tired of whining. I don't want to read any more of this. I am not going to do school any more. I can't staaaaaaaaand all this whiiiiiiiiiiiining."
I stared at her. "You know you're whining, too, right?"
"Yes, but I can't help it. There is way too much whining in this book. You cannot read any more."
That proved to be true for the next several minutes, because she drowned out my reading with her whining.
Isn't it ironic how we mock the Israelites for their constant whining (especially when they mention how much better Egypt was) and then we turn around and complain about our health or our kids or our job and act like anything would be better than this?
Did you know that when we complain, we're saying something about God? We're saying that His ways are not best, that His gifts are not good, and that perhaps He has brought us to this place just to make us miserable.
So what's the solution? Act like everything's fine?
No! Our inner grumblings are not hidden from the Lord, either, and He knows the true attitude of our heart. He wants us to express our hurts and disappointments to Him, but complaining is a symptom of a deeper problem, a misunderstanding or disbelief of who God really is.
The solution is drawing nearer to Him. The only way to satisfy our soul is to find true rest and complete confidence in God's good and faithful character. That kind of rest can only develop over a long time of searching His Word and applying it to our circumstances.
We have an advantage the Israelites didn't have: we already know that God can bring water from a rock.
Will we trust Him to do it?
---
Leave a comment below! 
Know someone who would be encouraged by this? Please share!
---
---
Sign up to have my free weekly devotions
delivered to your inbox.
---