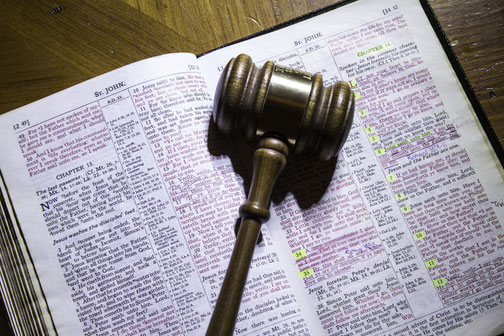 …and it was.
Not everything is transferable. Plane tickets, memberships, vacation days…they all belong to the named person and can't be passed on. In school, a student can't count a grade earned by another student. It wouldn't be fair for someone to take a test in someone else's name.
But sometimes someone can do a job for someone else. A coworker can step in to help meet a deadline. A parent can buy and prepare a child's meal. A substitute can cover a class. A spouse can do a chore that is typically the other's responsibility.
That's how it is with righteousness. Because God is the judge of righteousness, He has the right to count one person's righteousness for another.
And that's exactly what He does.
When we trust in Christ, a great exchange takes place. Not only does He take our sin, but we take His righteousness. All of his obedience, all of his law-keeping, all of his faithfulness, it all counts for us.
Jesus said, "Do not think that I have come to abolish the law or the Prophets; I have not come to abolish them but to fulfill them." (Matthew 5:17; ESV)
"For God has done what the law, weakened by the flesh, could not do. By sending his own Son in the likeness of sinful flesh and for sin, he condemned sin in the flesh, in order that the righteous requirement of the law might be fulfilled in us." (Romans 8:3-4, ESV)
"For as by one man's disobedience the many were made sinners, so by the one man's obedience the many will be made righteous." (Romans 5:19, ESV)
Make no mistake: salvation requires keeping the law perfectly.
And that law has already been kept perfectly.
For us.
By Jesus.
There is nothing more for us to do. There is nothing for us to add to our salvation. Yes, God expects us to be perfect, but He declares that we already are!
If you're worried about what God thinks of you, if you're beating yourself up for your sin, if you're succumbing to the pressure to be a "perfect Christian" (or even a "good Christian"), look up! Your righteousness is secure and sitting at the right hand of the Father.
There is nothing for you to measure up to, because the law you are measured by has already been fulfilled. Jesus is alive, He is perfect, and it is finished!
---
Leave a comment below! 
Know someone who would be encouraged by this? Please share!
---
---
Sign up to have my free weekly devotions
delivered to your inbox.
---