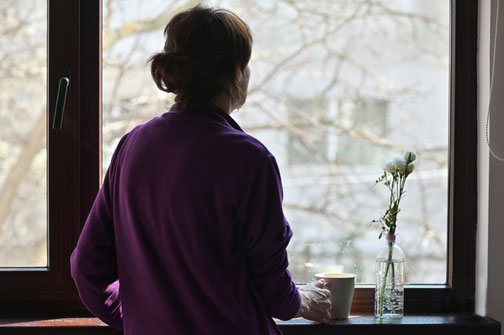 I already homeschool.
I already cut my family's hair.
I already cook most of my meals at home.
I thought it was because I'm a frugal homeschool mom. Now I know the truth: I have been living in quarantine for years!
I'm sure you've heard (or read) your share of quarantine jokes. They're all over, which makes sense. Our world has been disrupted, and humor softens the blow. 
Behind all the jokes, though, there's something more serious going on. We've all lost something, whether it was a family vacation, a third of our retirement fund, a loved one, or simply a sense of normalcy. We used to go to bed thinking tomorrow would be something like today. Now we go to bed wondering what's going to be taken from us next.
As Christians, we want to "make the best of it." We want to be joyful and thankful. We want to think that everything will be okay.
But what if everything is not okay?
Perhaps our generation (at least in first-world countries) is like the frog in the proverbial pot. The water heats up gradually, but the frog doesn't notice until it's too late and he's nothing more than a boiling blob.
Perhaps we've been lulled into a false sense of security, thinking nothing bad could ever happen to us. Not as an entire nation. Not as an entire world. Not something that would wreck us emotionally, physically, financially, and spiritually.
Perhaps we've forgotten that suffering is a major theme of the Christian life. Suffering. This topic that consumes so much ink in the New Testament. Suffering. A word that goes so far as to define the very nature of our Savior: the Suffering Servant.
How would God have us look at our suffering? How would He have us respond when everything is not okay?
"Therefore, since we have been justified by faith, we have peace with God through our Lord Jesus Christ. Through him we have also obtained access by faith into this grace in which we stand, and we rejoice in the hope of the glory of God. Not only that, but we rejoice in our sufferings, knowing that suffering produces endurance, and endurance produces character, and character produces hope, and hope does not put us to shame, because God's love has been poured into our hearts through the Holy Spirit who has been given to us." (Romans 5:1-5, ESV)
Did you notice that even though this passage is about suffering, Paul doesn't start with suffering? When we're seeking to make sense of our circumstances, we don't start with the suffering. We start with who we are in Christ:
1)      We are justified. Our righteousness has been given to us. That's what the "therefore" refers to: "[Righteousness] will be counted to us who believe in him who raised from the dead Jesus our Lord." (Romans 4:24, ESV). It is not our behavior, but our belief in Jesus that secures our righteousness. So no matter how many times you snap at the other people trapped in your house, no matter how many times you complain, no matter how anxious and scared you are, you can never lose your right standing with God. Your week will be full of uncertainties, but Jesus has already navigated every one of those uncertainties for you, and He has done it perfectly. He has already earned you a perfect score in God's grade book for the week that is yet to come.
2)      We have peace with God. We do not have to fear the future, because God is pleased with us. He is not out to get us. He is working for our good. Even if disease and death are in our future, He will not reject us on the basis of our sin against Him. We are at peace with Him.
3)      We have access to grace. We may not have access to gyms, spas, or movie theaters. We may not have access to toilet paper. But we will always have access to grace. No government order, no safety procedure, no virus will ever close the door to God's grace for us. He loves us; He accepts us; He helps us. No matter what.
4)      We rejoice in hope. This virus is not the end of us. Even if it ends in death – or even if it was the end of the world – it would not be the end of us who trust in Christ. There is a future glory coming that is worth all the suffering this world can throw at us.
Once we've been saturated in the truth of who we are and how much we have in Christ, we can understand suffering rightly. Suffering has a purpose, and its purpose is our good.
Anxiety focuses on what might happen. God tells us what will happen. We will grow in endurance, and character, and hope.
Paul says we can actually rejoice in suffering. We rejoice, because we know this suffering will not have the final word. We rejoice, because we know God will use this suffering to make us more like Christ (which is awesome!). We rejoice, because God loves us and fills us with His love for others. We rejoice, because there is no social distancing between us and God.
 The Holy Spirit isn't hovering six feet away from us. He's living inside us. He will not leave. He will not stop working. He will not get sick. He will not lose value. He will not run out. He will stick with us all day, every day, regardless of tomorrow's news.
And that's not just another quarantine joke. 
---
Know someone who would be encouraged by this? Please share!
---
---
Sign up to have my free weekly devotions
delivered to your inbox.
---