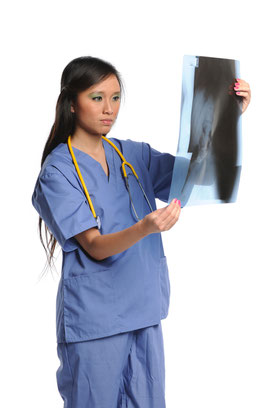 A couple of weeks ago, I went in for a MRI. I was having some symptoms the doctor couldn't figure out, and he thought a MRI might reveal the underlying problem. Thankfully, the images showed there was not a serious problem.
The purpose of medical scans and tests is to reveal a problem. I keep reading about coronavirus tests in the media, and how they help identify and track the virus. The tests don't solve the problem. They reveal it. But revealing the problem is a major step towards solving it.
What if we viewed the coronavirus itself as a spiritual health test? I do not mean a positive/negative test like the coronavirus test: Are you spiritually healthy? Yes or no?
I mean a test like a MRI, where a skillful examination of the results can reveal a myriad of possible underlying conditions requiring attention and care.
David teaches us to beg God to run this kind of test on our hearts:
"Search me, God, and know my heart;
Test me and know my anxious thoughts.
See if there is any offensive way in me,
And lead me in the way everlasting." (Psalm 139:23-24)
The indicators of an underlying condition here are: (1) anxious thoughts and (2) offensive ways.
Have you had any anxious thoughts in the midst of this pandemic? Have you let your mind run with "what ifs?" Have you experienced any stress?
What about offensive ways? Have you slandered the authorities God has placed over you (Romans 13:1-7)? Have you neglected to care for the poor (Matthew 25:31-46)? And I know can't be the only one who has used my words recklessly against those living under the same roof as me (Ephesians 4:29-32).
Difficulties have a way of revealing symptoms that may not have manifested themselves in better times. The anxious thoughts, the offensive ways – those aren't necessarily the underlying problem (though they may still be sinful). They're the symptoms that our gracious God brings to the forefront in such a time as this.
The underlying problem is the heart.
So, what do your symptoms say about your heart?
Does your stress revolve around your job? Do you snap at your family because they're interfering with your productivity?
Are you anxious about your health? Are you impolite because you don't know what germs someone near you is carrying?
Do your "what ifs" concern your finances? Are you neglecting God's call to give what you can because you think, "What if one day, I can't?"
Where are you concentrating your efforts? What are you trying to prevent? What are you trying to increase? How are you spending your time? Which news captures your attention most?
These are the kinds of questions that take us from the symptom to the underlying condition. And we all have underlying conditions! We are all prone to place idols on the throne.
Comfort, pleasure, safety, security, control, and the approval of others are just some of the deadly idols that masquerade as harmless pursuits during normal times. It's when we're stripped of our idols that we find out just how tightly we were clinging to them. And we'll usually continue to cling for as long as we can, refusing to acknowledge our need to let go.
As this pandemic lingers, can I encourage you not to waste the opportunity to clean house? Oh, I'm sure you've already cleaned your physical house from top to bottom (unless you have young children, in which case there would be no point). But have you cleaned your spiritual house, your heart? Have you asked the hard questions: why am I so anxious about this particular thing? Why am I so easily offended about this particular thing?
Will you open your heart to God and beg Him to do a thorough test? Will you let Him use hard times and an unusual routine to reveal underlying conditions that need attention?
"And we know that for those who love God all things work together for good, for those who are called according to his purpose. For those whom he foreknew he also predestined to be conformed to the image of his Son." (Romans 8:28-29, ESV)
---
Know someone who would be encouraged by this? Please share!
---
---
Sign up to have my free weekly devotions
delivered to your inbox.
---